Hybrex Systems are Extensively Featured, Affordable, NBN Ready Communication Solutions.
User Friendly Operation.
Expandable Solutions - 40 to 1280 ports - Single Site / Multi-Site.
Intercom and Access Control in the One System.
Peace of Mind with a 3 Year Warranty on all Hybrex equipment.
Celebrating 25 years in Australia - over 50,000 systems installed.
Download System Brochures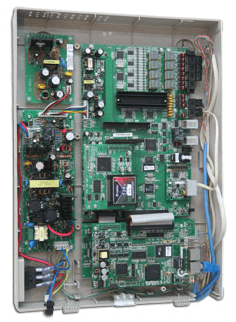 View Our Range Of Hybrex Handsets and Consoles
DK9-25 Handset
Multi-Line 32chr Backlit LCD Display
25 Dual Colour DSS Keys
33 Function Keys
Ring / Message Indication Lamp
8 Ringer Frequencies
8 Polyphonic Ring Tones
Adjustable Volume Level for Handset / Speaker / Ringer
Hands-free Calling
Headset Jack
Speakerphone
Tilt Angle Adjustable LCD Panel
DK9-15 Handset
Dual Line 32chr Backlit LCD Display
15 Dual Colour DSS Keys
12 Function Keys
Ring / Message Indication Lamp
8 Ringer Frequencies
8 Polyphonic Ring Tones
Adjustable Volume Level for Handset / Speaker / Ringer
Hands-free Calling
Headset Jack
Speakerphone
Tilt Angle Adjustable LCD Panel
DK9-DSS Console Unit
30 DSS keys with bi-colour LEDs
M keys allow mapping of second set of key assignments
Free standing or bracket mount to DK9 handset
DK6-21 Handset
Optional model with inbuilt Bluetooth for headset connectivity
The DK6-21 is the 'executive' model of the two available
Body colour is charcoal, with a silver finish on the faceplate
36 programmable DSS keys all lit with bi-colour LED
Handsfree capable
Headset port
Adjustable stand - two positions
Wall mountable
Variable LCD contrast on GDS and G1E systems
Melody ring tones on GDS
DK7-21 Handset
Ring / Message Indication Lamp
10 Dual Color DSS Keys
14 Function Keys
Speakerphone
Handsfree Calling
Adjustable Volume Level for Handset / Speaker / Ringer
8 Ringer Frequencies
Adjustable Dual-Angle Back Stand